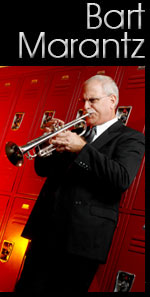 Home
B.M.P.
BTWHSPVA
Articles
Interviews
Reviews
Books
Biography
Videos
Photos
Calendar
Music
Links
Contact
Sara Marantz
Matt Marantz
Luke Marantz




Bart Marantz Plays Bach Selmer Trumpets and Flugelhorns exclusively.

Please e-mail the Artist Relations Coordinator with your inquiry at: srichards@conn-selmer.com
---
Bart Marantz NPR/KERA Jazz Education Interview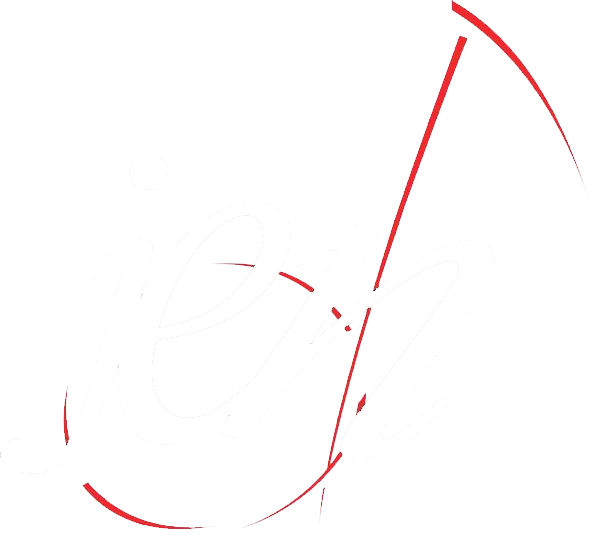 Click below to listen to the interview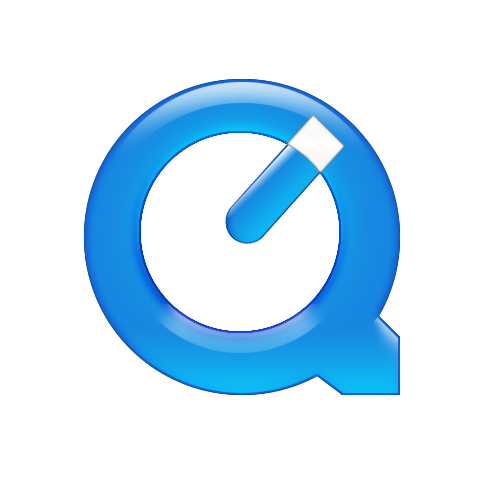 Click below to read the article


---



To see Bart's Ad in Down Beat Magazine Click Here.




To see Bart's Congratulatory Ad in Down Beat Magazine Click Here.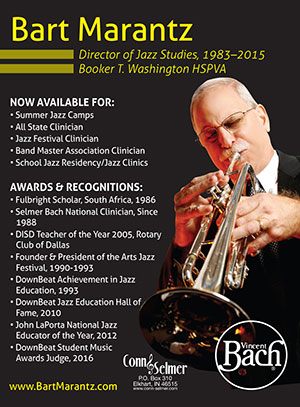 To see Bart's Ad in Down Beat Magazine Click Here.


Booker T Washington High School
for the Performing and Visual Arts
Bart Marantz – Director of Jazz Studies 1983-2015
When Downbeat magazine announced its 38th annual Student Music Awards (SMA's) in its June 2015 edition it had this to say about Bart:

"We also want to salute another Hall of Famer, Bart Marantz, director of jazz studies at Dallas' Booker T. Washington HSPVA. Bart is retiring after 32 years of teaching the next generation of jazz, a lineage that includes Roy Hargrove and Norah Jones, both winners of multiple SMAs. The students at Booker T. sent Bart out in style with six more SMAs this year, making it 245 awards in his 32 years. That's the record for one institution."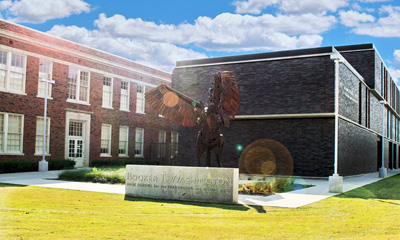 WHAT TEACHING MEANS TO ME...
There is a debate over whether it is truly possible to "teach" jazz, an art form that at its core relies on self-expression and improvisation. So, I like to consider myself more of a "coach" to young artists who are committed and dedicated to this music we call jazz. I believe that all music is a gift from Our Creator, and that we are all born "singing", so I accept this role of "music teacher" as a mission and a privilege; an opportunity to share my thoughts, knowledge, enthusiasm and love for jazz with younger artists who will then carry the music forward, retaining its integrity and promoting its longevity. My philosophy of teaching is to not only instruct, but to model an "every day" kind of work ethic that my students will need to emulate if they desire to fulfill their dreams and aspirations for a music industry career. Coming early and staying late to work, demonstrating enthusiasm for jazz music and the musicians who perform and teach it, modeling dedication, determination and discipline by doing proper advance planning, timely execution of ideas, programs, concerts, gigs, trips, festival and award entries, college auditions, and recordings - these are ways to "teach" these young artists how to succeed in life. Even incorporating humor into the learning process is an important element I use....like telling jokes and offering extra credit if they laugh!! I also think it is my role to keep current with jazz happenings, networking and maintaining associations with jazz leaders and programs around the country. Knowing what's "out there" in regards to college jazz programs and national events, such as festivals, jazz camps, jazz institutes, and awards, is vital to being able to offer helpful advice and direction for future study and opportunities for scholarship aid. Maintaining an active performance schedule locally is also a vital part of educating in the "performing" arts arena. These "gigs" connect our students with their community and provide incentive and motivation to develop excellence in performing - both personally on their own instruments, as well as collectively, as an ensemble. I feel impelled to help these young artists develop good business acumen, as well, and have instituted music business classes to teach them how to do gig sheets, contracts, business cards, bios, web-site development, and press kits. I have had students at BTWHSPVA who have become leaders in our industry, and I am very proud of their accomplishments. But, I am just as proud of those who have used their acquired skills to go into a completely different line of work, employing a good work ethic, high standards, and a use of their creativity to solve problems and invent solutions. I am equally thrilled with the hundreds of young musicians who may not be industry "stars", but who nonetheless are involved in all facets of the music world, from performance, to composition and arranging, to teaching, to film scoring, and so many other musical endeavors, and are doing so with a daily walk of practice and continued commitment to this wonderful art form. Giving praise when due, promoting their successes, both while they are still students at BTW and also long after they are out on their own, I have sought to encourage high standards, both for their own personal aims (properly attired, prepared and on time!), as well as for their musical desires (excellence in playing their instrument, knowledge of their genre of music, ensemble and leadership skills). The wonderful successes of my students have been the force behind this "teaching" career that I have been so blessed to have for half of my life now. They have given me such personal fulfillment in their friendship and trust, and knowing them has produced a wonderful walk for me, in addition to a life of learning from these same students, who, at the time, didn't know that they were "teaching" the teacher.
-- Bart Marantz
Bart Marantz – Department Accomplishments 32 Year Tenure
Director of Jazz Studies – 1983-2015
Booker T. Washington HSPVA
Dallas, Texas

Arts Jazz Festival - 1990-1992
• Produced $250,000.00 in Scholarships
Produced seventeen jazz albums – 1983 -2015
• Includes Vinyl, Cassette and CDs (one packaged with DVD)
* See Below *
Down Beat Student Music Awards" since 1983 - 245 Departmental awards
Departmental – Includes Instrumental and Vocal Jazz

Sixteen performances at The International Association of Jazz Educators Conference
Departmental – Includes Instrumental and Vocal Jazz
• Appearances were made throughout the US and Canada
• Only eligible to perform every other year

Five performances at The Jazz Educators Network Conference
Departmental – Includes Instrumental and Vocal Jazz
• Conference was started in 2008
• Only eligible to perform every other year

Ten DownBeat Music Fest. National Awards 1987 - 1990
Departmental – Includes Instrumental and Vocal Jazz
Gold - Four
Silver - Four
Bronze – Two

Twenty-Three Dallas Independent School Board Resolutions for the Jazz Studies Program

Three Resolutions from the Mayor of Dallas

Two Resolutions from the Governor of Texas

One Resolution from the Chairman of the National Endowment for the Arts

One Resolution from the President of the United States

Ten National Finals and Four Wins at the National Monterey Jazz Festival
Departmental – Includes Instrumental and Vocal Jazz

Nine Alumni with Thirty-Three Grammys – (includes additional years 1976-2015)

Fifteen National Jazz Arts Awards – Arts Recognition & Talent Awards
Departmental – Includes Instrumental and Vocal Jazz

Twelve Booker T. Washington musicians have been signed to major labels as leaders

Booker T. Washington HSPVA - NOTABLE MUSIC ALUMNI:
* Erika Badu – Vocal *
* Norah Jones – Vocal *
Michael Palma – Piano
* Roy Hargrove – Trumpet *
Keith Loftis - Ray Charles
* Alan Emert – Brave Combo *
* Danny O'Brien – Brave Combo *
Bralon Lacey – Bass – Erykah Badu
RC Williams – Piano – Erykah Badu
* Shawn Martin Piano – Kirk Franklin *
Tim Owens – Vocal - Atlantic Records
Edie Brickell and the New Bohemians
Eric White – Drums - Reprise Records
Mike Mitchell – Drums – Stanley Clark
Olivia Harris - New York Based Vocalist
Andrew Griffith - Drums - Cedar Walton
Aaron Comess - Drums - The Spin Doctors
Nadia Washington - Boston Based Vocalist
Allison Wedding - New York Based Vocalist
Donessa Washington - Vocal - Kirk Whalum
Keith Anderson – Marcus Miller – Tenor Sax
Luke Marantz – Piano – Steeplechase Records
Fred Sanders - Piano - Leaning House Records
Joe Jackson – Trombone - Leader Airmen of Note
* Daniel Jones – Musical Director – Janet Jackson *
* Robert "Sput" Searight – God's Property/Snarky Puppy *
Frank LoCrasto - Piano - Pat Martino – MAXJAZZ Records
* John Thomasson - Bassist/Bandleader with Little Big Town *
Matt Marantz – New York Based – Keilwerth /RICO - Tenor Sax
Roger Roe - Oboe - Indianapolis Orchestra ...................... Classical
John Koen - Cello - Philadelphia Orchestra ...................... Classical
Sanchez – Piano - Van Cliburn Competition ...................... Classical
Damian Criswell – Piano – Major TV Commercial / Movie Music Composer Gabriel
* Denotes Grammy Winner *

School Web Page:
http://www.dallasisd.org/bookert

School Calendar Page:
http://www.dallasisd.org/Page/1599

School Showcase Page:
http://www.btwshowcase.com

School Music Guild Page:
http://www.btwmusicguild.com



2501 Flora Street
Dallas, TX 75201
phone: (972) 925-1200
fax: (972) 925-1201

Mission Statement:
To provide and receive intensive training in the Arts and Academics.



The School:
Booker T. Washington High School for the Performing and Visual Arts boasts the honor of being the first institution in the Dallas Arts District and the only school. There are no cheerleaders at BTWHSPVA. There is no football team, no basketball team, and no pep rally on Friday. The building was built in 1923 and has been declared an historical landmark. The Dallas magnet system evolved from a court order on desegregation in 1976. Dallas Independent School District met specific needs to educate gifted artists with both the potential and aspiration for careers in the arts by establishing BTWHSPVA as a school solely dedicated to this mission. Since its inception, BTWHSPVA has received national acclaim as a prototype for subsequent magnet schools throughout the United States and Canada through its membership in the Network for Performing and Visual Arts Schools. In 1994, BTWHSPVA was named a Mentor School by the Texas Education Agency and in 1995 was named a Texas Blue Ribbon School by the United States Department of Education.


Located in the Dallas Arts District near the heart of the city, the magnet school attracts students from throughout the metropolitan area. The multi-ethnic student body includes approximately 800 students in grades 9 through 12 who attend the school fulltime, enrolling in a full range of arts and academic classes. Students have been distinguished by receiving a variety of awards and honors, including Presidential Scholarships. The instructional staff consists of 54 full-time teachers and approximately 15 part-time teachers and consultants. Approximately 88% of the faculty have more than ten years of teaching experience, while over 83% have advanced degrees. Faculty distinctions include Fulbright Scholars, a Christa McAuliffe Fellow, and two National Tandy Technology Scholars, to name a few. A variety of grants and business partnerships support the program. The school is accredited by the Texas Education Agency and the Southern Association of Colleges and Schools.


BTWHSPVA was created to provide a program of excellence in the arts which meets the needs of the students and the community. BTWHSPVA is not a school for everyone, but it is the school of choice for students with special talents and the desire and commitment to develop their potential. Intensive training in the performing or visual arts allows students to explore the demands of an artistic career. A rigorous academic program offers all courses required for the state's three graduation plans, including a host of honors courses and Advanced Placement courses. Students are selected through audition, interview, portfolio, or other demonstration of artistic aptitude, and the student population reflects the ethnic enrollment of the district at large. On the average, 150 graduating seniors boast - $11 million dollars in college scholarships in both arts and academic majors.


Getting the Word Out
With volunteer services from the graphics department at J.C. Penney's in Dallas, a video and brochure advertising the Arts Magnet High School was produced in 1993. This was followed by a School Handbook distributed to parents and students which contains valuable course information about the four clusters as well as an Internet Home Page which posts calendar events. The position of Public Relations Specialist was added to the faculty in 1995. A revised information brochure was produced by students enrolled in computer graphics classes in 1999.


The Washington-Lincoln Alumni Association
WLAA has over 300 members in ten chapters throughout the nation. These members are former students from classes since 1939 who have met for twenty annual conventions and are committed to community service projects. In 1989 this group was instrumental in having Booker T. Washington High School declared a Historical Landmark.


The Arts Magnet Alumni Association
The Arts Magnet Alumni Association was founded by graduates Luis Valdespino '88, Sharon Modabberi '79, and Otis Gray '88 in January of 1995, in honor of the twentieth-year anniversary. The organization has grown quickly and already has been successful in creating a scholarship fund for promising students.


This fund was created from an alumni art show and concert held in August 1996 when more than 60 alumni from the past twenty years returned to the school to donate works of art and produce or perform in the show. Each year, four graduating seniors are awarded a scholarship from this fund for college studies. On May 4, 1997 the Advisory Board, along with business and community leaders, hosted Sundayfest, a fund raiser luncheon and concert at the Morton Meyerson Symphony Hall. On May 23-25, 1997 the Alumni Association hosted a reunion for all alumni from the classes of 1977-1997. These events included an art show, a family picnic, and a concert.


In February of 2000, three Arts magnet Alumni were granted the honor of placing their handprints along Dallas' Walk of Fame at the Lakewood Theater. Grammy winner R&B vocalist Erykah Badu, Grammy winner jazz trumpter Roy Hargrove and Visual Artist Chris Arnolds' handprints will remain on Dallas' Walk of Fame forever. This event was sponsored by AT&T and Showtime.




---




BTWHSPVA has specific purposes and goals:



To attract artistically gifted students from the Dallas community at large.
To accept an ethnically balanced student body.
To prepare students for college/ university/ professional schools or for professional career entry.
To recruit and retain a faculty of academic and arts professionals which reflect a multicultural society.
To educate the whole child by fostering the development of perception, conceptualization, sensitivity, and creativity.
To provide a general education with an emphasis on societal, civic, and ethical responsibilities.
To coordinate the content of academic classes with specialized arts curricula.
To provide for continuity and upgrading of in-depth course offerings in each art area.
To provide an educational atmosphere which is conductive to the development and nurturing of creative artistic talent.
To develop the students' abilities so that they can express their ideas clearly and specifically within their chosen art form.
To maintain a close working relationship with the Dallas Arts District and the arts community at large.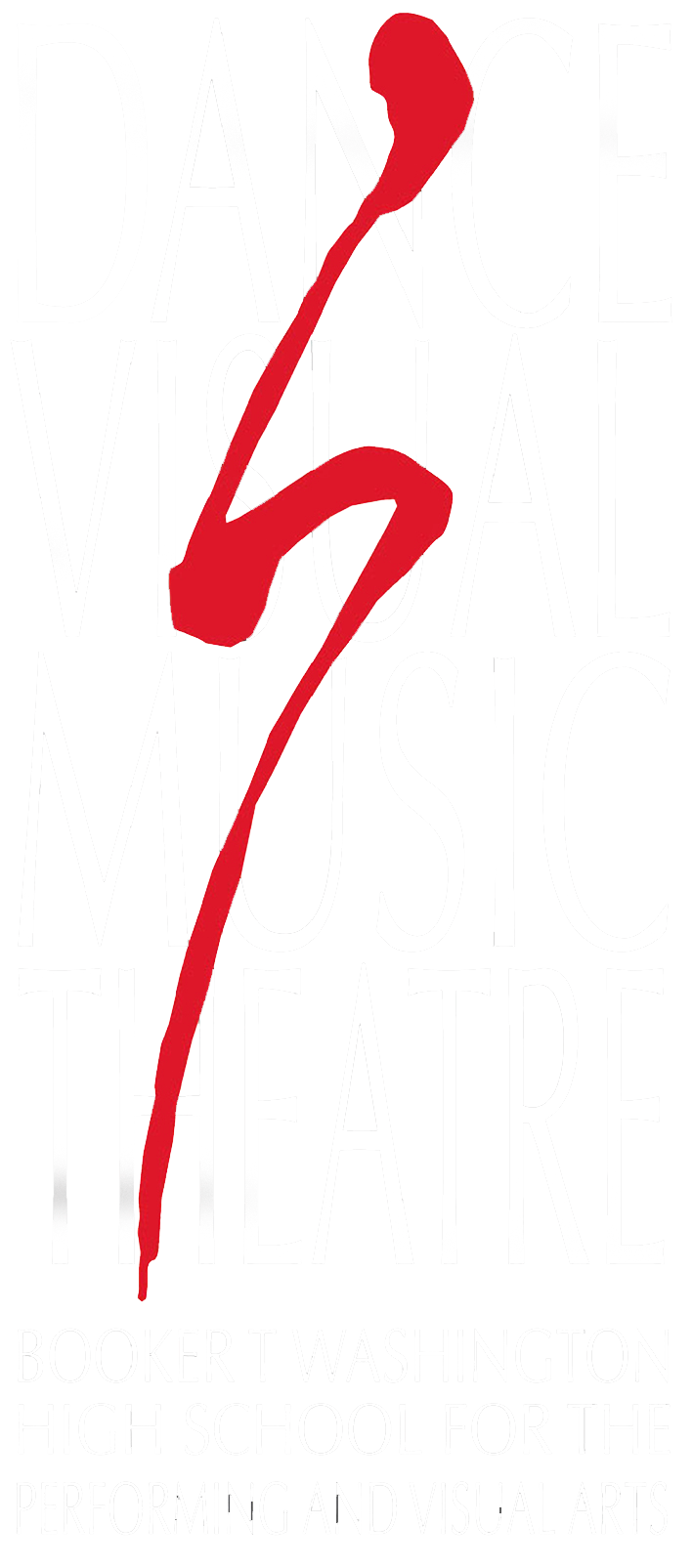 Excellence
BTWHSPVA was created to provide a program of excellence in the arts. The curriculum reflects a commitment to exemplary standards in both the arts and the academics. Since its inception, BTWHSPVA has received national acclaim as an outstanding arts high school and has served as a prototype for subsequent developing "magnet" schools.


BTWHSPVA shares with only one other school the distinction of having produced more Presidential Scholars in the Arts than any other school in the Southwestern U.S. The Presidential Scholar Award is the nation's highest award for excellence in the arts and academics.


BTWHSPVA annually outscores local, state and national scores on standardized tests. The National Foundation for Advancement in the Arts and other arts organizations recognize our students for outstanding achievement. Colleges, universities, and conservatories offer scholarships in excess of 1.5 million dollars annually. Over 85% of the graduating seniors attend college, while a select few from each discipline embark on a professional career immediately following high school graduation.


Auditions
Auditions are held on two Saturdays in the spring semester. Applications are available from the school office beginning in January. Students are admitted to the school through the audition process which includes the following criteria and permanent record documentation:


Student interest
Performance, portfolio review
Grades/test scores
Attendance
Recommendation




Recordings Produced By Bart Marantz




LP Recordings



| | |
| --- | --- |
| | |
| "Arts Jazz Milestones" 1985 LP | "Arts Jazz Dallas" 1986 LP |
| | |
| "Arts Jazz Impressions" LP 1987 | "Arts Jazz Dallas" LP 1988 |
Cassette Recordings
"Arts Jazz '90" Cassette
"Arts Jazz '91" Cassette
"Arts Jazz' 92" Cassette
CD Recordings
| | |
| --- | --- |
| | |
| "Arts Jazz Stretchin The Time!" CD 1995 | "Arts Jazz 20th Anniversary" CD 1998 |
| | |
| "Arts Jazz In The Pocket" CD 2002 | "Arts Jazz Giant Steps Forward" CD 2003 |
| | |
| "Arts Jazz I Thought About You" CD 2004 | "Arts Jazz Now's The Time" CD 2006 |
| | |
| "Arts Jazz Night & Day" CD 2007 | "Arts Jazz Tribute" CD 2009 |
| | |
| "Arts Jazz Triple Play" CD/DVD 2011 | "No Limits" CD 2014 |